Rubino Di Girolamo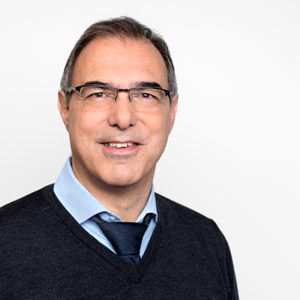 Chairman of the Management Board / CEO
Rubino Di Girolamo (born 1962) served aap in different Supervisory Board functions from 2004 to 2019 and has been the Chairman of the Management Board / CEO since 2019. Mr. Di Girolamo looks back on long-standing experience in different top management positions, inter alia, at Metalor Dental Holding AG and its affiliates, Bellevue Group and Saurer Group. Mr. Di Girolamo studied economics at Zürcher Hochschule für Angewandte Wissenschaften (ZHAW).
At aap Rubino Di Girolamo is responsible for Corporate Development, Research & Development Future Technologies, Corporate Risk and Compliance Management.
Marek Hahn
Member of the Management Board / CFO
Marek Hahn (born 1975) has been with aap since 2007 and has been a Member of the Management Board / CFO since 2010. Prior to joining aap he worked several years for KPMG Deutsche Treuhandgesellschaft AG in various national and international positions in the fields of Accounting, Auditing and Executive Consulting. Mr. Hahn holds a degree in Business Administration (Dipl.-Kfm.) at Technische Universität Berlin.
At aap Marek Hahn is in charge of Finance / Controlling, Human Resources, IT, Legal Affairs, Investor and Public Relations as well as Administration.
Agnieszka Mierzejewska
Member of the Management Board / COO
Agnieszka Mierzejewska (born 1982) joined aap in 2014 and has been a member of the Management Board / COO since 2021. Before joining aap, Ms. Mierzejewska already spent several years in various operational positions at medical technology and patient care companies, including Vanguard AG, and can look back on several years experience abroad. Ms. Mierzejewska holds a Master's degree in Health Economics and Health Care Management.
Agnieszka Mierzejewska is responsible for Sales & Marketing, Production, Research & Development Trauma, Quality Assurance and Regulatory Affairs at aap.